Day Chair
Leg Rest Adjustable Height
The Adjustable Leg Rest has height adjustment from 400mm to 550mm, naturally sits on a 10 degree ang...
Hilite Chair
Lightweight and sturdy this chair is designed for comfort and function. Features a large height cont...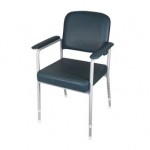 Utility Chair
The Utility chair is a multi-purpose adjustable seat height chair. It can be used in any area where...