Accessories
DAYSOVERBED – Days Over Bed Table
This over bed table has an epoxy coated frame with a vinyl top. It also has recessed edges, which ma...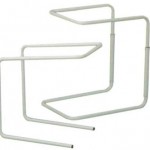 9024 – Peak Care Adjustable Bed Cradle
These are designed to fit under the mattress to form a support to keep bedclothes clear of feet and ...
K-Care Free Standing Self Help Pole
Free standing self help pole with length adjustable triangle. Allows the client to pull themselves t...